🔥 74,89% of customers bought 2 or more 🔥
DESIGNED WITH EVERYTHING YOU NEED FOR BOTH MEN AND WOMEN
Do you find it a hassle to carry multiple bags when traveling? How easy do you carry your shirt to a business meeting, with no wrinkles at all? Or maybe you have a sports event, is your bag such convenient for you?
Have you ever thought about the perfect bag for traveling, business meetings, short trips, sports events and more? Without any further ado, we introduce you the Modoker™ Duffle Bag, the only bag you will ever need!
Modoker™ is perfect for both men and women and will fit your needs for anything around traveling, overnight or weekends trips, sports events, business meetings, and more. Developed with many features such as having an anti-wrinkle garment bag, shoe compartment, dry and wet sections, plus more, the Modoker™ is also waterproof, scratch-resistant, anti-tear, anti-wrinkles & anti-water splashing.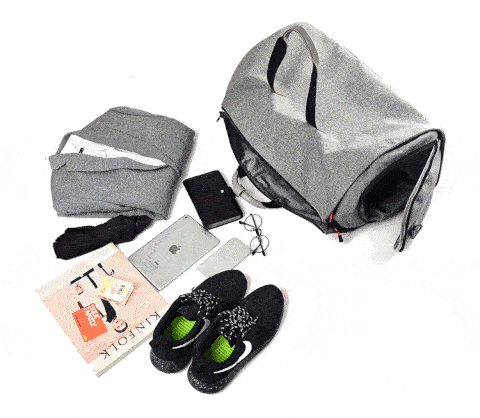 KEY BENEFITS OF THE MODOKER™ DUFFLE BAG
ALL-IN-ONE: An easy to manage all-in-one bag for traveling, events, meetings and more. Having over 7 useful features, unlike any other bags, Modoker™ is the only duffle bag you will ever need!
SPACIOUS: Benefit of 45 liters / 11 gallons all in one compact bag developed to fit any of your needs for a few days.
SMART: Unlike any other traveling bags, Modoker™ has a very smart and powerful design, offering you many intelligent storing parts for normal clothes and objects as well as special sections for suits, dresses or shirts and for shoes.
GARMENT BAG:

 

Now you can easily

 

take a

 

nice

 

ironed

 

suit

 

or

 

dress

 

with you anywhere

 

with the special

 

garment

 

section

 

of the Modoker™. Created with

 

anti-wrinkle

 

materials, your clothes

 

will always stay in perfect shape

 

for an important moment.
SHOE SECTION:You won't need to take your shoes separately anymore. The shoes

 

won't be an issue anymore

 

as

 

you will have a separate section just for your shoes. Take up to

 

two

 

pairs

 

as

 

you will never dirt your clothes anymore

.

WATERPROOF:

 Modoker™ is

 

fully waterproof, ensuring that

 

your items are always protected

 

from any potential liquid coming through.
USEFUL FEATURES:

 

Developed to be

 

the only duffle bag you will ever need

, Modoker™ is

 

resistant to cuts,

 

waterproof, scratch-resistant,

 

anti-tear,

 

anti-wrinkle

 

&

 

anti-water

 

splashing.

Either you are planning on an overnight or weekend trip, or maybe you have a business meeting or a sports event, the Modoker™ is perfect for anything you can imagine and beyond. Probably the best value for your money when it comes to travel and duffle bags.

OTHER SPECIFICATIONS:

5-Day USPS Free Shipping to the USA.
Created for

 

both men

 

and

 

women.
Has a capacity of 45 liters / 11 gallons. 
Includes a garment bag, shoe special compartment, dry and wet pockets, plus necktie and passport pockets. 
Made from high-quality polyester fiber. Can be taken on a plane.
Can fit up to three suits/dresses/shirts depending on the thickness and up to two pair of shoes.
The product

 

is available

 

for

 

1-Year Warranty.

Here at GadgetShopp, we are working every single day in order to offer our loyal customers the best products in the entire market.

Our website is totally designed for fast and secure ordering. Each customer benefits of our Buyer Protection and each order comes with its own Tracking Number.

Our checkout it's using secure socket layer technology (SSL Enabled) and it's trusted by all major web browsers. When checking out, all of your payment information is kept safe and secure.

First time on our website? We would love to have you part of our family. Here's what you are getting:

 Hand-picked Good Quality Items
 60-Day Risk-Free Buyer Protection
 Logistics/Tracking Numbers
 Lowest Price While Keeping The Quality
 100% Secure Checkout (SSL Enabled)
 Easy Returns & Exchanges

We have 24/7/365 email support. Please contact us at info@gadgetshoop.com if you need assistance.